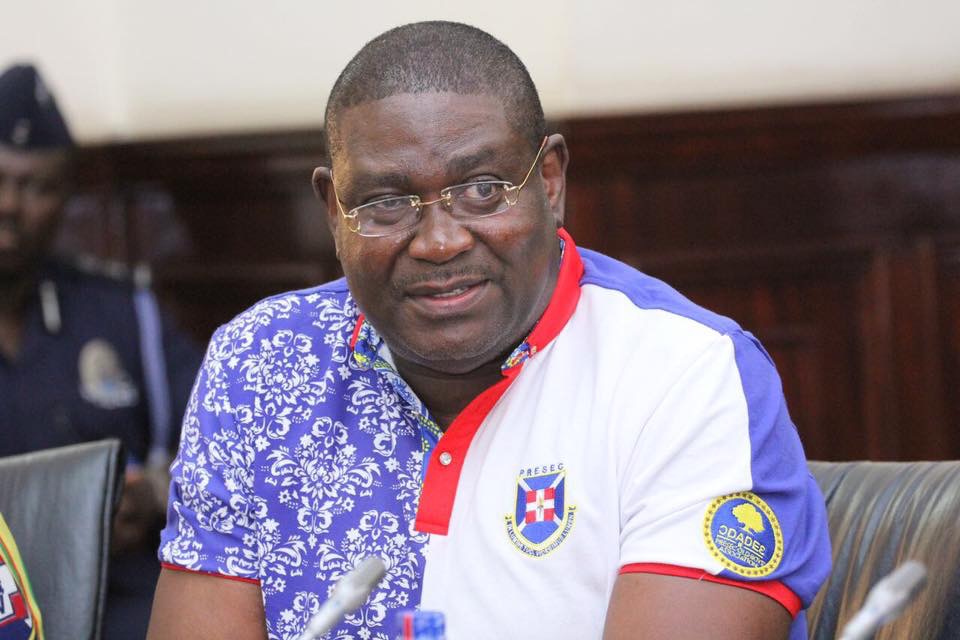 ODADEE GLOBAL ASSOCIATION
ANNUAL GENERAL MEETING
21st November 13, 2020
REPORT OF THE GLOBAL PRESIDENT
INTRODUCTION
Fellow Odadee, this report being the last I will present to the Annual General Meeting of the Odadee Global Association, it will be appropriate to review in some detail the objectives, achievements, current challenges and future aspirations of our dear Association.
When I took office six years ago, I presented a plan to rejuvenate the Association based on the need to achieve:
Vibrancy
Visibility
Viability
We aimed for the stars, we may not have hit the mark in all respects, but I dare say we landed on the moon.
On assumption of office, I carried out an analysis of the major ailments afflicting our Association. Despite the commendable efforts of past administrations, the Association suffered from:
Lethargy and indifference
A debilitating lack of commitment (Time. Talents. Treasures)
Excessive "Presbyterian" modesty
I understood that unless the broad membership of the Association is engaged and feels an emotional connection to its aims and ideals, no amount of energy at the top would have the desired impact. It was necessary to awaken the sleeping giant from its slumber. My team and I devised several measures to this end. These included:
1. ESTABLISHISHING A FUNCTIONAL SECRETARIAT
To provide adequate secretarial support and membership assistance, my Administration decided to appoint a full-time Executive Secretary with the approval of the General Council. The Secretariat is housed in the beautiful Alumni and Mentorship Centre constructed by 1990 year group with support from other year groups and individuals.
The first Executive Secretary was Elvis Lamptey who served for two years before going abroad for further studies. He was succeeded by Benjamin Adjei-Preprah who remains in office and whose unflagging energy and love of PRESEC is unsurpassed.
2. ACTIVATING THE GENERAL COUNCIL
Populating and empowering the General Council. The General Council consisting of Year Group Presidents is the Parliament of our Association. By initiating regular, well-attended meetings of the General Council, communication between the Executives and membership of the Association was significantly improved. The General Council proved to be an invaluable source of ideas a platform for the dispassionate evaluation of various courses of action.
I must thank Senior Lawyer Ofori who availed the premises and meals of his Tulip Hotel near Gulf House to the Association for our meetings, prior to the commissioning of the AMC.
3. INAUGURATING OVERSEAS CHAPTERS
Fellow Odadee, members of the Association in the Diaspora constitute a critical source of material and intellectual assets that needed to be fully brought on board to help realize our objectives.
i. North America Chapter
In North America, Senior Sam Addo headed up an energetic team that rallied the fraternity. In 2016, the Global Vice President Ernest Owusu-Afari (1981) and I attended the inauguration of the North America Chapter of the Odadee Global Association. The NA Chapter has since its inauguration become a linchpin of the Global Association. It spearheaded one of the most significant projects ever undertaken by the Association, namely the construction of an ultra-modern food court named Goase, to replace the infamous Mangoase of old. The facility is completed and is ready for commissioning.
Fellow Odadee, kindly permit me to recognize the following key members of the NA Chapter who led the incredible effort to rally the Alumni in North America to execute this very impressive project:
President – Sam Addo 1976 (Meyoung)
Vice President – Alex Darku 1979 (Bogonato)
Treasurer – Prof Nii Adote Abrahams 1981 (Rollie)
Organising Secretary – Eddie Cofie 1981(Eddie Fico)
Secretary – Kofi Opoku 2005
Public Relations Officer – Kofi Dom 1983 (K Dom)
Fellow Odadee, while the organisers of the Goase project have made adequate provision to recognize all Donors, I must mention the following:
Odadee Horace Codjoe (1981) who raised USD60,000 for this project and
Odadee Prof Ben Dwamena (1979) and Eric Yarboi (1985) who raised in excess of USD10,000 each.
The entire Association is in awe of your incredible generosity.
Great mention must be made of the untiring effort of Mr. William Ofori Darko (Chief), the Contractor, whose tireless effort and many times the input of his finances not only helped put up the Gatehouse, Fountain and Now Goase.
ii. UK Europe Chapter
In UK, Odadee Leonard Asamoah took up the challenge to organize the fraternity in UK and Europe. In 2017, the Global Vice President and I attended the inauguration of the Chapter. The Chapter made significant contributions to various projects, notably contributing to the Goase Project, and in the wake of the COVID-19 pandemic, assisting financially and technically with the setting up of an E-Learning facility for the School.
Our sincere gratitude goes to Senior Lenny, Jones Amegbor, Ben Preko (Perlus) and the other indefatigable team members who for brevity's sake cannot all be mentioned here.
iii. We also set up a fledgeling Australia Chapter, which even though has a relatively small membership, shows much promise of great things to come. For the 80th Anniversary celebrations, Odadee Australia procured a high-tech gas-fuelled torch which was at the head of the bonfire night procession.
I hasten to add that both the Global Vice President and I bore the full cost of overseas travel and boarding ourselves, and did not burden the Association with these expenses.
ORGANISING ODADEE LADIES
Distinguished Odadee PRESEC has a 20-year history of admitting a limited number of ladies to Sixth Form. These female Odadee are a valuable treasure trove of diverse skills and resources. My Administration decided to engage them and to integrate them more closely into all aspects of Alumni Activities. To this end a Director for Female Alumni was appointed to the Global Executive Council. Odadee Regina Mawuse Yovonoo (1991) proved to be an essential voice within the Executive Council, with her forthright views delivered with good humour.
Odadee Beatrice Adom and Irene Marmah helped us create a vibrant Odadee Ladies social media platform.
The measure of our success in this effort can be seen in the fact that for the first time in our history, we have a Female Nominee for the position of Global Vice President, Odadee Patricia Obo-Nai (1991)
4. FUNDING THE ASSOCIATION
My Administration reviewed the prevailing arrangement of per capita dues. We determined that the year group leadership was better placed to extract contributions from members for onward transfer to the Global Secretariat to meet essential administrative and other expenses. The General Council approved a levy of GHC2000 per year group per year. With some effort, most year groups have been meeting this obligation, and it has provided much needed funding for the Association's basic functioning.
Fellow Odadee, over and above the annual year group levy, year groups commemorating their 25th and 40th anniversaries after exiting PRESEC have undertaken various anniversary projects on Campus as listed elsewhere in this report. Furthermore, to help improve conditions on campus, my Administration apportioned various urgent renovation projects to the various year groups. Most of these projects were duly executed and are listed below.
I want to thank our Director for Fundraising CB Asante (1982). He contributed heavily to the renovation of the Old Octagon Dining Hall by his 1982 year group, and to the construction of the Alumni and Mentorship Centre.
5. RAISING BRAND VISIBILITY – ANNUAL BONFIRE NIGHT
Despite the exploits of Presecans in all avenues of academic pursuits, the PRESEC brand was being overshadowed by other academic brands who had every reason to be modest.
A strong brand has a rallying effect its stakeholders, and this translates to increased engagement and willingness to sacrifice.
We decided to institute an annual Bonfire night as part of the annual commemoration week. Except that we raised the stakes in terms of the quality of the production, the line-up of guest artistes, and the professional fireworks to crown the event.
The bonfire night would also be the occasion for the induction of the 10th anniversary year group into the Association as fully-fledged members, capable of discharging their obligations to the Association.
Distinguished Odadee. PRESEC is blessed with some of the nation's best professionals in event management. The General Organiser Leonard Akuffo Kwapong (KK)and Deputy Director for Communications Chris Johnson and Mr Nayo. They led a team of talented young Presecans to deliver four annual Bonfire nights which were of such a scope that they have become a national event, with attendance from around the country.
6. RAISING BRAND VISIBILITY – GRAND DURBAR
Fellow Odadee, 2018 was the 80th anniversary of the establishment of our Alma Mater. It provided an exceptional opportunity to wave our banner high and rededicate Presecans around the world to the cause of our Alma Mater. An Anniversary Planning committee headed by the Global Vice President planned and executed a year-long series of events in coordination with the School Authorities. The events included a Media Soiree, Clean-up exercise, health walk and mentorship activities for the students and young Odadee. It culminated in a Grand Durbar of Chiefs and traditional leaders, the Speaker of Parliament, Ministers and Parliamentarians, with the President of the Republic as the Guest of Honor. HE President Nana Addo Dankwa Akufo Addo was inducted as an Honorary Odadee, after which some other elite schools rushed to emulate PRESEC.
7. RAISING BRAND VISIBILITY – ODADEE AWARDS
My Administration instituted the ODADEE Awards Ceremony as a means of recognizing exceptional contributions in cash, kind, or time by Odadee and other stakeholders and well-wishers to our school or Association. The first event was held at the plush La Palm Hotel in December 2018. Several personalities were honoured, including notably the Speaker of Parliament, the Rt Hon Odadee Mike Oquaye.
Fellow Odadee, following the extraordinary success of the Grand Durbar and Odadee Awards, it was decided by General Council that both events will be held every five years to recognize and motivate philanthropy to our Association and Alma Mater.
8. My Administration recognised very early that each year group upon the celebration of their 25th year anniversary after leaving school produced and wore commemorative T-Shirts which depicted their year group. This was laudable. But we realised the whole global association did not have an overarching one that all irrespective of year group could wear. Hence the production of one that still remains the talk of the town for its beauty and variety.
9. ENDOWMENT FUND
Distinguished delegates to this AGM, global executive council decided to set up an Endowment Fund to help provide long term funding. Even though the Fund could not be fully operationalised, seed money of GHC100,000 has been raised through contributions from:
Odadee Frank Adu (1978) GHC20,000
Odadee Darkwah (1978) GHC50,000
Odadee Patricia Obo-Nai (1991) GHC10,000
Odadee in Ecobank GHC10,000
Accrued interest GHC10,404
The funds are currently lodged with CAL Assets Management Ltd.
9. PROJECTS
Fellow Odadee, it is to the immense credit of this Association that members have responded to the call for help from the School and the Association by giving of their time, talents and treasure with amazing generosity. This has enabled the Association to carry out the list of projects listed below over the past few years.
PROJECT YEAR GROUP STATUS
Gate House 1976 Completed
Visual Art Studio 1977 Completed
Visual Art Block 1978 Completed
Lighting Project 1992 Completed
Solar Project PTA & Government Block 1994 Completed
Renovated Classroom Block A 1996 Completed
Renovated Classroom Block B 1999 Completed
Basket Ball Court 1979 Completed
Renovation of Computer Lab 1986 Completed
Renovation of Clerk House 1980 Completed
Renovation of Riis House 1984 Completed
Renovation of Engmann House 1981 Completed
Renovation of School Clinic 1995 Completed
Furnishing of Alumni Center 1990 Completed
Landscaping at Main Gates Old Boys Secretariat Completed
Fountain at Main Gates Global President and others Completed
Appeadu House Francis Biney 1990 In Progress
Gymnasium 1991 In Progress
New Goase Food Court North America Chapter In Progress
Astroturf and Change Room Dr. Ernest Ofori Sarpong (1985) Completed
New Assembly Hall GES through Odadee Okudzeto Ablakwa Completed
New Administration GES through Odadee Okudzeto Ablakwah In Progress
E-library 1993,1994, In Progress
Solar Project Admin Block and Block A 1989 Completed
John Deer Mower 1973 Completed
Renovation of Old Dining Hall 1982 Completed
Doma Project/ wilderness 1983 Completed
Renovation of Labone House 1985 Completed
I have highlighted the impressive Goase food court executed by the North America chapter. Permit me to highlights a few other key projects initiated by members of this Association.
Alumni and Mentorship Centre by 1990 year group. This impressive facility provides a home for the audia global Association. It houses our Secretariat and provides spacious grounds for Alumni events
Appeadu House by Francis Biney 1990. This is a residential facility for students being constructed single-handedly by Francis Biney (1990 Dovi). Dovi Has been extraordinarily generous with his time and treasure and has contributed significant sums of money to various initiatives on campus.
The Astroturf Pitch by Dr Ernest Ofori Sarpong 1985. This sporting facility has brought the alumni and mentorship centre to life. It was single-handedly funded by Dr Ernest Ofori Sarpong (Special Ice). It is a measure of his commitment to the Association and to the school and is deserving of our gratitude.
E-Library: Following the construction of a new assembly Hall for the school, The Association decided to convert the old assembly Hall into an e-library. The e-library will provide ultra-modern Internet-connected facilities to aid students in research and learning. This project is a multiyear initiative which was kicked off by 1993 and 1994 year groups.
Provision of a 4x4 Wheel Pickup. Odadee Nana Antwi Darkwa (Parkas 1976)
Distinguished Delegates, we received tremendous professional technical input at little or no cost to the Association from some dedicated professionals including
Ehunfreid Nayo (1981)
Richard Darko (1993)
Richard Agyapong (1994)
Kwame Dei (1994)
Frank Ankamah (1994) and many others who I cannot mention here.
I must highlight the instrumental role played by the Hon Okudzeto Ablakwa who played a key role in directing government funds to the new Assembly Hall and the new Administration Block.
I must also mention Professor Wusornu, who generously contributed GHC60,000 towards the E-Library project.
The ODADEE Global Association is grateful to all those who have contributed in various ways to our numerous projects.
There are numerous soft projects undertaken that time and space will not allow me to pen down. Please forgive if your project wasn't highlighted.
10. STRATEGIC SERVICES
Distinguished Delegates, members of this Association do not ask for much in return for their contributions to the Association and the school. The one thing that they do request is for their eligible wards to be given priority consideration for admission into PRESEC. PRESEC being an elite school receives far more applications for admissions than it can accommodate. This results in a distressing annual scramble by parents seeking admission for their wards. My administration appointed a Director for special services whose remit includes liaising with the school authorities and the GES to ensure maximum admissions opportunity for the eligible wards of members of this Association. Senior Kofi Anyinam Boateng (Boat, 1978) has performed wonders in this role, and brought much needed solace to many of our members by getting their wards into PRESEC sometimes against overwhelming odds.
11. COMMUNICATIONS
We have been extremely fortunate to have two consummate communications professionals heading up our communications Directorate. The communications director Chris Johnson and his deputy Eddie FICO have done an incredible job of keeping the rank and file of the Association informed and engaged throughout this past four years. Chris Johnson has spearheaded the execution of the various major events of the Association including the annual bonfire which has gained national prominence. Eddie FICO from his base in distant New York has kept the membership of the Association apprised of all events and developments. He has gone further to invoke the memories of our time in PRESEC with several humorous stories. This has served to strengthen the emotional connection of alumni to the school and the Association. Indeed Eddie Fico had to relent to pressure to compile the stories into a book, "Tales of an Odadee" which has just been published and which will no doubt further entrench the reputation of PRESEC as a place where literary talent is nurtured.
12. TRANSITIONS COMMITTEE
It is said that nothing is certain in life except death and taxes. Taxes, we leave to the powers that be. But it was evident that we needed to streamline the process of participating in the funerals of departed members of the Association. To this end a Transitions Committee was set up headed by Nii Armah (1977) Pechepe to coordinate between bereaved families and the Association to ensure a dignified send off for departed Odadee and members of Staff. This committee has already proved its value, leading the association to pay its respects to our dearly departed Mrs Charity Akyeampong, other members of Staff as well as Odadee
13. MAINTENANCE OF ALUMNI PROJECTS
Fellow Odadee PRESEC like many public institutions is bedevilled with an inadequate maintenance culture. In view of the significant resources that's being committed to projects on campus by the alumni, the Global Executive Council deemed it necessary to appoint a council member Odadee Baah (1989) whose remit is to ensure proper maintenance of alumni projects.
14. NEW CONSTITUTION
Distinguished delegates our old constitution which had served us for several years was showing signs of being inadequate for the times in which we find ourselves. Several efforts to update or amend the constitution did not bear fruit. The general counsel then authorised the global president to set up a new constitutional review committee. I appointed a three-man committee comprising:
Global Vice President Ernest Owusu-Afari (1981)
Eddie Fico (1981
Nii Boi Dsane (1981)
The committee with input from a wide variety of Odadees, produced several iterations of a new Draft Constitution. These were subjected to scrutiny by the broad membership of the Association. Several proposals were incorporated finally culminating in a final document which was approved at an Extraordinary General Meeting of the Association on 29th August 2020.
The new Constitution came into effect on the same day.
15. ESTABLISHING ACADEMIC SUPREMACY - NATIONAL SCIENCE AND MATH QUIZ
Distinguished delegates, above all else PRESEC is known for its academic prowess. This well-earned reputation is evident in the position of PRESEC high on the scoreboard of The WASCCE exams year after year. PRESEC also has the enviable title as the school with the most National Science and math quiz titles. We had experienced something of a drought in NSMQ titles in recent years, culminating in an early exit in the 2018 edition. The Global ODADEE Association found this situation to be unacceptable. I had to endure intense pressure from general council and rank and file members. I instituted a joint Alumni/Staff Committee under the chairmanship of the Global Vice President Ernest Owusu-Afari which investigated the cause of the disappointing performance in recent years and submitted recommendations to turn the situation around.
Let me hasten to give due credit to the Headmaster of PRESEC David Odjidja and his staff especially Mr Dzidefo Afram and Telemachus Osei for the incredible turnaround that occurred in 2019 when PRESEC was runner up, and 2020 when we won the NSMQ trophy for the sixth time!
Distinguished Delegates, this incredible victory could not have happened without the commitment and dedication of the following Odadees:
Core NSMQ Trainers
Godwin Bluvi (2018)
JudeLove Anum (2011)
Jesse Kandue (2017)
Solomon Frempong (2011)
These old students (in addition to PRESEC NSMQ teachers) formed the core tutors who prepared the quiz boys. They also visited the school to observe the boys take part in trial quizzes. Godwin Bluvi stayed on campus with the quiz boys for several months, supervised their day-to-day studies and coordinated the schedules for visiting tutors.
There were some medical school students (friends of Mr. Afram) who came to help tutor the boys although they are not PRESEC old boys. They are Kelvin Jidisu and Jerry Osei.
Other old boys who occasionally visited the school to train the boys, taught via Zoom, and sent study material to Godwin Bluvi to teach them include Zechariah Mohammed (2017), Roland Krieger (2008) and Alex Boateng (2011)
Some old boys also played an important supportive role by consistently visiting the quiz boys to encourage them, travelling with them to quizzes etc. These include Benjamin Adjei-Peprah (2006), Dr. Etse Sikanku (2000) and George Kissi (2002)
CONCLUSION
In conclusion. The bus project for the MMSQ team is still hanging we need to keep faith with the teachers and students as an incentive well earned. Please make good your voluntary GHS 7000. We came with a heart to serve our alma mater and above all the ODADE? fraternity. To help make our brand a powerfully visible brand. A vibrancy unequalled by the passion evoked in the entire membership. A structural build-up that will take the fraternity beyond the now into the hereafter ensuring viability for the coming years. A new page will surely cover our written pages and to that, we eagerly look forward to. A curtain call has been sounded and it is time for us to take a bow. In our course of duty, our passion to fulfil our purpose might have trodden upon toes and probably jostled others by the ribs in order to achieve. We still stand as servants whose actions will be tried by posterity. Please do forgive any mistake in commission or omission. I bear full responsibility for it. I am very grateful to Senior Odadee Okine Okantey and Nii Kwaku Sowa who singled me out to thrust this heavy mantle upon my shoulders and never hesitated to register their approval or disapproval through the years. With these two we have tried to bridge the gap between Odumase and Legon. We cannot afford to walk into the future without standing upon the pedestals yesterday offer. I thank my Class of 78 who joined the conspiracy to throw me into the deep end, knowing full well I didn't know real much about the fraternity, but, gave me every support they could muster. There will always be the special people who yoked their necks to mine and it'll be a terrible omission not to mention their names. Odadee. Ernest Owusu-Afari. Kofi Anyinam Boateng. Sam Addo. Edward (Eddiefico)Cofie. CB Asante. Nii Armah Armah. Bernard Donkor. Regina Yovonoo. Leo Kwapong. Chris Johnson. Elvis Lamptey. Benjamin Adjei-Peprah. Ehunfriedt. Nayo. Stephen Baah. Nii Adjah Nablah. Edmund Annor-Ofei. Lord Koramoah. These are really the people held hands together with me to raise our torch this high. Departure bells are tolling and soon we will walk into the sunset of our service. Our shoulders are high and our gaits are sure for we sang "Happy are we" as we picked up a torch to raise up an unquenchable blaze to make Odadee see more light in the light we had.